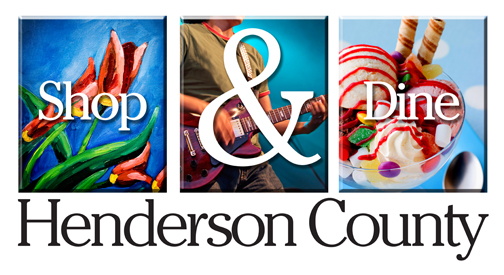 The Chamber urges everyone to continue to Shop & Dine Henderson County. Now, more than ever before, local businesses need the support of local consumers.
Shopping locally not only benefits our merchants and their employees, it adds to local government revenue in the form of sales tax dollars. North Carolina collects a 6.75-cent sales tax on every dollar spent - 2 of those cents are returned to the county in which the taxed items were purchased. Sales taxes collected by Henderson County businesses make up over 20% of the county's budget and between 20-30% of our municipalities' budget, which provides for school needs, infrastructure and countless other items we enjoy and expect as residents here.
But what happens when Henderson County shoppers travel to Asheville or Greenville to do their shopping?
The phenomenon is termed "leakage," and it amounts to an estimated $157 million annually being spent outside Henderson County. 2.25% of these expenditures ($3,000,000 + annually) will go to the county or community where the tax was collected. If those tax dollars stayed in Henderson County, many of our county programs and benefits could be enhanced and other forms of taxation or tax increases could be prevented.
LOOKING FOR A SPECIFIC BUSINESS.
CHECK THE CHAMBER MEMBERSHIP DIRECTORY!
TOP TEN REASONS TO SHOP & DINE LOCALLY
1. Keep the Dollars in Our Local Economy
When you shop in our community, you simultaneously create jobs, fund more services through sales tax, invest in neighborhood improvement, and promote community development.
2. Local Business Owners Invest in Community
Local businesses are owned by people who live in this community, are less likely to leave, and are more invested in the community's future.
3. Support Community Businesses
The well-being of a community benefits when you shop locally. Our area businesses build strong neighborhoods by sustaining communities, contributing to local charities, supporting sports teams, festivals, service clubs, school activities and the list goes on.
4. It's in Your Backyard
Win – Win. Reduce your environmental footprint and save money at the same time. Shopping in Henderson County means no need for long drives and overnight stays. You're not burning fuel and contributing to greenhouse gas emissions. Everything you need is right here in our own backyard.
5. Consider What Our Retailers Are Facing
They purchased their stock six months ago for $100 hoping to sell it today for $120, pay their employees, pay their taxes, heat and hydro, donate to charity, and hopefully pay themselves. Instead they are being asked to sell it for $80.
6. More Jobs and Wages
Supporting our local merchants means more jobs and better wages for our community. These wages, in turn, are spent again in our community as employees purchase goods and services from local merchants.
7. Keep Our City Unique
We have a variety of unique specialty shops and products. These businesses are an integral part of the distinctive character of our community Our tourism industry benefits from this. When people go on vacation they seek out destinations that offer them the sense of being someplace special. By choosing to support local businesses you help maintain our diversity and distinct flavour.
8. Get Better Service
Our area merchants take pride in hiring the right people who are passionate about their products and services....let's support them by shopping locally. And consider if you have a problem with the item you have purchased you can easily return it to a local merchant for service where this is not as easily accomplished with a foreign purchase.
9. Lots of Great Products
With so many great stores, markets, restaurants and crafters, the choices are endless. There is a broad range of products available.
10. We love our Community – Let's Keep our Money Here
We can encourage local prosperity by keeping our hard earned dollars in our local economy.
ATTENTION MERCHANTS AND BUSINESS COMMUNITY:
There are 5 versions of the Shop & Dine Henderson County. The Chamber encourages all business owners to print out the version that suits your business the best and post it for your customers to see.