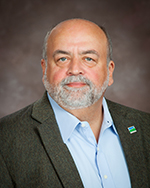 From: Dave Modaff, Friday Staffing Services
2017 Chairman, Chamber Board of Directors
Your Henderson County Chamber of Commerce has been a positive force for business since 1911. In the 106 years since its founding along the Buncombe Turnpike we have beheld many changes. We have seen the fall of the horse and the railroad; the rise of automobiles we drive to ones that are driven for us. Communication from posted letters to internet emails and from the telegraph to the telephone to the smart phone. Time that was kept in your pocket, then on your wrist, can now be found on your phone too.
One of the great constants through the years has been your Chamber. Providing your businesses with support and encouragement through great and not so great times, each year helping make Henderson County a great place to start and run a business. There are over 2,800 businesses here in our community and your Chamber has regularly scheduled programs and services to make them better in so many ways. Here are but a few:
It can seem that your Chamber never sleeps. At 7:45am on the second Wednesday of each month the informational networking opportunity called Business Morning Update is held at The Chariot in downtown Hendersonville. Over coffee and pastries businesses interact before hearing about timely community events and issues affecting our business community. Every Thursday at 8:00am two separate Leads Groups, north and south, meet for a weekly review of local business happenings from twenty + professionals during a casual one-hour meeting. Then on the second Thursday at 8:30am the Small Business Committee meets. This was my first formative experience at the Chamber and I remember the work their fondly. Setting up and breaking down tables makes for a very supportive group.
At noon on the third Wednesday there is the Ambassador's Committee, the hardest work you'll ever love. They work hard to get new members and to make current members feel appreciated. Attending ribbon cuttings, coordinating the SurPrize Patrol events and the regular and Mega Business After Hours, along with other valuable activities keep these committee members always on the run. Noon on the third Monday of every month is the meeting of the Board of Directors, another group of hard working volunteers who provide your Chamber with their time and energy. The Board gives the guidance and expertise to keep this long serving organization on point through the next century.
After 5:30pm the fun starts with Business After Hours held on the fourth Thursday of the month. It is Henderson County's premier networking event for business professionals, giving you the opportunity to discuss and share ideas while learning about other local businesses. It is a relationship-building experience held in a relaxed setting that benefits you and your company through added contacts and resources. If that wasn't enough, once a year a Mega version of Business After Hours is held as a pool party. Annually there is also a Chamber Trivia Challenge, Camp Field Day, Arts After Dark, Economic Outlook Breakfast, a 5k/8k run, Bowling, Golfing, an Award's dinner and more.
Each year, for our Industrial Divisions annual Pig Pickin', our President stays up through the night tending to the event's main course. Also working day and night is the Chamber website, available on-line with a myriad of valuable reference material, a Member's Directory, a relocation guide, visitor's information and so much more. You really should visit www.hendersoncountychamber.org .
I look forward to serving this year as your Chamber's Chairman and invite all of you to join the Chamber and take full advantage of everything we have to offer.